You know how it is: you start a new job with all this breathless excitement and anxiety-ridden exuberance and you think it's going to change your life.
Well, it did change my life: I was certain when the Grand Master of the Lodge informed me that I would be the Illuminati's newest recruit that I would be able to learn all I needed to know about the Gregorian Calendar.  But that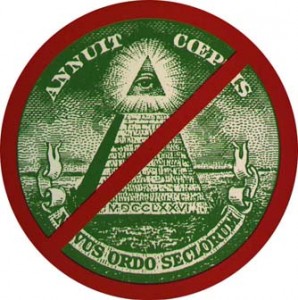 myriad geocentric dating system was too baffling for me to come to terms with and the black cabal was less than impressed that I kept confusing Ra with Aunbis.  This all added up to me getting the boot in 2009, and since then I've felt a little empty.
I guess you expect that sort of feeling when you get fired from any job, but how much more so when you don't get any severance.  Due to the secretive nature of the organization I previously worked for, it was impossible for me to prove that I was owed anything and really, who was going to listen?  I found myself in a somewhat ironic position when I couldn't even turn to my former colleagues in the AFL-CIO for their assistance.
Add to that, the supreme let-down of being let go from the premiere organization that really makes a difference in the world: this was no McJob.  Granted, I was just a mere acolyte and my duties were limited to reporting on the general mood of the proletariat and preparing the altar found in the recesses of the temple for blood sacrifices; but, I had all this potential: I was moving up in the world!
Now, you might think 'Get over it, move on!'.  But what's there really to move on to?  Since every other company is just a branch of my former employer, it's hard to get my references and resume to stand up against the severe disappointment of our shadowy overlords.  Hell, even the Flat Earth Society won't return my calls and they're so desperate to increase the size of their organization they'd probably even allow Justin Bieber to join.
And what's more, one of my references has been unreachable since the people stormed the streets of Cairo and the military gave him the boot.  I'm sure the New World Order has been rougher on him, but I've got to make ends meet too.  My other reference has been nearly as unreliable since he gave a speech from the Red Castle in the Triple Cities.  So, where I'm left is the unenviable position of having to ask the Anti-Christ for a loan and that guy has a penchant for shooting people in the face.
I'm hoping things will blow over soon and I can start working my way up the chain again.  I'll buckle down and memorize the constellations and planets and read their auguries best I can and hopefully I'll be able to prove myself and be allowed to enter Xanth again, even if it's just as the janitor.
---
Posted in
Liar's Digest
Tags:
adventure
,
dick cheney
,
Egypt
,
Flat Earth Society
,
gregorian calendar
,
Illuminati
,
Justin Bieber
,
libya
,
Ra
,
Set
,
writing