I'm sure many of you have questions about time travel.  First of all, it appears that when it comes to Earth, the British seem to have the most experience with time travel.
Now, some of you might be convinced that time travel isn't possible but you couldn't be further from the truth.  Have you ever had sex in the 4th dimension?  This should be enough to convince you, as you haven't lived until you've had time travel sex and this is why The Time Traveler's Wife is the truest story I know.  Time traveling friendships are ok too.
You also might think 'Hey, things always go wrong when the future is involved.' and therefore are wary of listening to the advice of future people.  But what has the past ever done for you?  That's right, it abandons you, just like your ex.  If you ever get a chance, just embrace a jaunt through the 4th dimension!
---
Posted in
Liar's Digest
Tags:
12 monkeys
,
4th dimension
,
88 miles per hour
,
adventure
,
advice
,
back to the future
,
bill and ted's excellent adventure
,
charlie chaplin
,
cyber men
,
dalek
,
dimension
,
doctor who
,
einstein
,
fart-apples
,
flux capacitor
,
frequently asked questions about time travel
,
hadron collider
,
hot tub time machine
,
john titor
,
lost
,
quantum leap
,
question
,
road trip
,
superman
,
TARDIS
,
terminator
,
the future
,
time
,
time lords
,
time travel
,
time traveler
,
time-vortex
,
travel
,
trips
,
writing
Since I've restarted my blog, I've found myself reading more blogs and when I think about it, circa 2005 when I had my previous blog, I was also reading more of them.  I don't know exactly why this is but I suspect it has something to do with wanting to see what other people are sharing when you are sharing.
Maybe.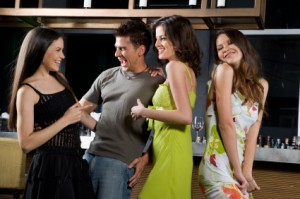 Recently, I've come across an interesting, seemingly connected thought process across several blogs, and I've been intrigued.  It started with a friend's blog: he's been having something he's referred to as March Madness (which has now bled into April as it seems that he knows many more people who are interested in bogging than I do) in which he has people he respects post entries on subjects they care about in his '10 Things I've Learned' format.  The one I linked to started the ball rolling for me when I followed the guest poster to her blog.  She had some interesting entries dealing with internet dating.
---
Posted in
The (Changing) Times
Tags:
advice
,
amorous
,
blog
,
blogger
,
blogging
,
body language
,
compromise
,
dating
,
donald trump
,
feminist
,
flirting
,
fun
,
how to pick up women
,
love
,
men
,
my opinion
,
newman logic
,
philosophy
,
pick up artist
,
pua
,
romance
,
sex
,
temp
,
Tom Cruise
,
what do women want?
,
women
There's a great amount of talk in the writing community in regards to prose (especially in fiction) and this talk usually begins with the idea of 'showing vs telling'.  The trouble is, as far as I can tell, it seems to be a general idea with few specifics offered as to how to achieve this.  When I was younger I read quite a few books on the subject and in the last decade there've been a plethora more (some now in podcast form).
But, what I have yet to encounter is a guide that actually explains the strategy necessary to achieve this.  It's almost as if a writer is on a quest to find the answer for themselves.  It's a trial and they're expected to 'feel it out'.  I'd like to think I'm in the know on this idea, as when I go back and read what I've written in the last decade, for the most part I've avoided many of the mistakes I've seen in other writing and I've managed to eradicate the mistakes I myself used to make.  That's certainly not to say that my writing is perfect, but there's no such thing as perfect when discussing human creativity, just bad, good enough or great etc.  I'd like to imagine I've avoided bad, terrible, atrocious etc.
---