I asked myself last night, 'how in the hell did I manage to drive to Barrie on a flat tire?' but I didn't bother to answer: that's just stupid.  It'd be way too circular: as if I'm both Acrisius and the Oracle.  You don't want to mess with that shit.  In any case, I changed the tire: I had to, even though I didn't necessarily want to.
It was just something that had to be done even if it was something that was difficult and unnecessarily exhausting.  Th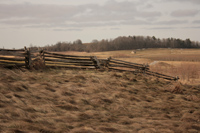 at baffles me as it's just five bolts to be removed and then reattached.  I even have a hydraulic jack.  It really shouldn't drain me the way it does.  But for some reason it's about as exhausting as I imagine turtle tapping is to poor old Mario.  Despite the fact that it was a draining experience, at least I was able to make my escape from Barrie.  That's always good.
I grew up in the middle-part of Ontario, the part that really doesn't have a name.  It's neither really Northern Ontario nor Southern Ontario.  With place names like Tosorontio, Wasaga, Peterborough, Orillia, New Tecumseth, Eugenia, Zephyr etc, it's this picturesque (read: uneventful) place that would fit nicely into a John Irving novel.  But it's not really that well defined, or really remarked upon.
In Southern Ontario you have metropolises and from those places, starting in the spring and ending late into the fall, an exodus occurs every Friday night in the direction of Northern Ontario.  This exodus gluts the highways and back roads of Middle Ontario and then does the same, but in reverse, on a Sunday night.  Everyone in the south desperately needs to escape what their northern counterparts refer to as 'the Big Smoke'.  Those residents of the Greater Toronto Area (GTA, also called Megacity by some) who are lucky enough, head a couple hundred kilometres north to their cottages.  Where they end up, is not technically Northern Ontario as far as I know.  Cottage country is centred on places like Bracebridge, Muskoka, Haliburton, The Kawarthas, Bobcaygeon etc.  But if you take a look at Ontario on a map you'll see that these places, which are a couple of hundred kilometres south of Sudbury, aren't really anywhere near Northern Ontario (if north and south are defined by landmass).
What's interesting is that the exodus from the densely populated part of Southern Ontario travels slightly north to a less densely populated area of Southern Ontario and calls that cottage country.  And pretty much everyone refers to going to the cottage as 'going north'.  I can't say for certain that anyone thinks of cottage country as Northern Ontario definitively, but I think there's certainly a perspective reasoning going on within the population that makes us imagine it were so.  I suppose that if these things were calculated by total population size, then Northern Ontario would probably start in Newmarket like Moses Znaimer's short lived VR-Land did.
In any case, where I grew up doesn't feel like Southern Ontario and it certainly isn't Northern Ontario.  I was born in Orangeville and I moved to Tioga when I was young.  I've spent a great deal of time driving in and around the farmland, lake and cottage glutted area bordered by the GTA in the south, The Great Lakes in the west, Ottawa in the East, and Sault Ste Marie in the north and the look and feel of the area, in my opinion, is an unnamed region to itself.
---
Posted in
The (Changing) Times
Tags:
canada
,
canadian
,
car
,
cottage country
,
fall
,
mario
,
middle ontario
,
motorcycle
,
ontario
,
road trip
,
seasons
,
spring
,
travel
,
trips