I asked myself last night, 'how in the hell did I manage to drive to Barrie on a flat tire?' but I didn't bother to answer: that's just stupid.  It'd be way too circular: as if I'm both Acrisius and the Oracle.  You don't want to mess with that shit.  In any case, I changed the tire: I had to, even though I didn't necessarily want to.
It was just something that had to be done even if it was something that was difficult and unnecessarily exhausting.  Th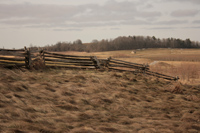 at baffles me as it's just five bolts to be removed and then reattached.  I even have a hydraulic jack.  It really shouldn't drain me the way it does.  But for some reason it's about as exhausting as I imagine turtle tapping is to poor old Mario.  Despite the fact that it was a draining experience, at least I was able to make my escape from Barrie.  That's always good.
---
Posted in
The (Changing) Times
Tags:
canada
,
canadian
,
car
,
cottage country
,
fall
,
mario
,
middle ontario
,
motorcycle
,
ontario
,
road trip
,
seasons
,
spring
,
travel
,
trips