While I've been spending time querying agents and publishers for my novel 'Fey Girl', I decided that I'd like to reach out to my audience preemptively.  I'm not sure who this audience is, but I figure every collection of creative works has one.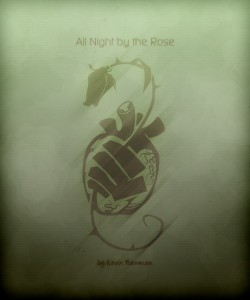 In any case, I've put out a free ebook here.  It's a collection of short stories that I've written over the years and I've converted it into several different file formats for devices and ereaders.
Why is it free?  Well, I could send these out to all kinds of magazines until someone agrees to publish them, but after all that work, it's not like it would pay much so I might as well give them away for free.
Here's a brief synopses of each story:
City on a Hill
This city is like your own in a time period reminiscent of the 20th century.  It is filled with gleeful hedonists out in an urban landscape celebrating 'Merry Day'.  Its narrative is experimental and filled with sharp observations as the characters go about their constant partying lives.  I was trying to channel Allen Ginsberg and Dr. Seuss at the same time.
Heartbreaker
The protagonist of this story is a misanthrope out to teach a lesson to a prior lover of his ex-girlfriend.  This is an experiment in language.  I wrote it after reading 'A Clockwork Orange' and wanted to try my hand at non-colloquial vernacular.  Since I'm not a linguistic scholar, I chose a language that has been bouncing around in my head.  I'd like to imagine that I'm an expert in the linguistic choice within my own mind.
Down with Me
This story takes place at a mental institution and is a slice-of-life narrative.  The protagonist and his friend have disorders in which things that cannot be there are for them.  It's an experiment in meta-fiction.
Pave the Planet
This story takes place in the outdoor break area at Honda Manufacturing in Alliston, Ontario.  The main characters spend their brief lunch period gossiping while the protagonist compares two time-periods in his life.  It's an experiment of flashbacks and description.
Red Backed Betty
The protagonist of this story is out clubbing.  When he meets a beautiful girl, he spends the rest of his night wooing her.  How he's wooing her is reminiscent of the Red Backed Spider with metaphorically similar results.  This is an experiment in theme.
Life and Times of 34 Empire Path
The protagonist of this story is a building located at the titled address.  The eras span six decades and within the context of these decades a narrative is weaved throughout.  It's an experiment with time.
He's Really my Brother
In this tale, the protagonist deals with the poor showing he made of being a good brother to a child adopted by his family.  It's a straight-forward story, although it plays with flashbacks and timing.
Kissing Eleanor
This is a modern-day romance between childhood sweethearts.  It's a pretty straight-forward love story, but as with most of what I write, it doesn't really end up where Hollywood expects it to.
The Great Fall of a Mediocre Man
A Love story: kind of the opposite of Kissing Eleanor in that it doesn't begin as you'd expect it, but it has a feel-good ending.
Saskatchewan Boulevard
The protagonist reminisces about his childhood friend when he drives by his old house and then imagines what his friend is up to in Afghanistan.  Of course, his imagination runs rampant and the reader ends up with a tale of eastern fantasy.
Nabakan and Benikhir
This was written as a counterpoint to the standard western fantasy.  It's set in a fantasy world that is reminiscent of the Middle-East.  Nabakan and Benikhir must save the people from the tyrant Po.
Janey Chu
This is a children's story and a study of theology from that perspective.  It's representative of society and it's fantastic.
Star Trek: White Trash
This is satire aimed directly at space opera.  Captain Hicks and his crew of misfits deal with a new Vulcan communications officer and at the same time, trouble in the Neutral Zone.
---