November 2, 2012
Comments Off

on Excerpt from Fey Tales: Vampires and Templars
I thought I'd share with you some of my progress.  I'm hoping to have the time to finish up this book soon.  In the meantime, I wanted to share an excerpt from the story currently titled "A Vampire Called Medina".  In this tale, a Templar Knight named Guilabert is torturing Medina because she might have information that is needed to find the treasure the order seeks.  Enjoy.
"So, you have seen the Temple Mount?"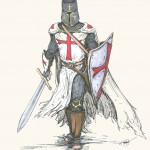 "I saw the foundations as they were being laid and when I returned, centuries later, I saw it before it was destroyed by Nebuchadnezzar II.  Those followers of Absolom were calling themselves the Priory of Sion at that point."  She narrowed her eyes and looked at them.  "I would think that this name has meaning for you."
"Of course."  The Grandmaster paced the room, slowly.  For a long time the only sounds were his boots clacking on the stone floor and the sounds from the streets below floating through the window.  When he finished pacing, he sat on the windowsill.  "And did the Priory ever return to the temple?"
"You know the answer to that.  You also know that they were missing the knowledge that would lead them to their records and the Ark of the Covenant."  She watched his face: his mouth twitched and he looked to the side before turning away to gaze out the window.  She smiled.  "I believe the Priory spent a lot of time exploring the temple before and after its destruction but they were unsuccessful, hmm?" (more…)
---
May 20, 2012
Comments Off

on Buried Alive! Buried Alive!
Well, I neglected this blog for a year.  Yes I've been busy writing a new novel, but that wasn't the main reason behind my online absence: I mostly blame the spam.  I never knew there'd be so much.  I think I've solved the problem by removing the old comment plugin and adding one for facebook ones instead.
Also, I couldn't commit to blogging due to not being home as much and using that time at home for writing fiction or for leisure.  Blogging on the go was impossible because my netbook was one of the early Asus ones with Linux and consequently, was perfect for writing prose in short stories and novels or poetry because it was so limited, but good for little else.  In addition, my old Nokia N84 was barely a smart phone: now I have a Samsung Galaxy Note; I'm using it to write this very blog outdoors, and it's a pretty good experience.
---
Posted in
On Writing
,
Truth Diary
Tags:
1980's
,
Asus
,
Athens
,
Babel
,
blog
,
blogging
,
cellphone
,
comment
,
Discordian Society
,
facebook
,
Fey Girl
,
Fey Tales
,
Fey World
,
fiction
,
hunters
,
Illuminati
,
imps
,
King Arthur
,
Knights of the Round Table
,
Knights Templar
,
Linux
,
myth-beast
,
Nokia
,
novel
,
Panther Company
,
Rasputin
,
Samsung Galaxy Note
,
Socrates
,
tablet
,
Thermopylae
,
Troy
,
WWII