Based on my personal observation of human interaction these days, pessimism is running rampant.  It seems to me that a great many people blame 'the world' for their current circumstances, presupposing that their current circumstances are bad and comparing the situations of poorly defined others who have 'better' lives and/or the imagining of another era (that never existed) in which things would be 'better'.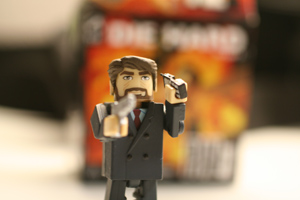 I've never really understood this idea of blaming everyone else for not 'getting ahead'.  It seems to me that if you were to give up on a goal because it's too hard to achieve due to the obstacles 'others' have placed in your path, then you've traded a difficult task for an insurmountable one: how is whining about it going to change the world around you to suit your needs?  Isn't it easier to circumvent the obstacles in your path rather than to point at them hoping that someone will remove them for you?  In addition to that, it is necessary sometimes to acknowledge that an obstacle cannot be removed or a goal cannot be reached and move on to something else.
In life and especially in the working world it's common for someone who has had a bad moment to dwell on it and then work themselves into a sufficiently bad mood as to take it out on those around them who had no connection to the original moment.  I see this as one of the greatest failings within humans as I think it builds up to the point where violence erupts or at the very least passes on from one person to the next like a virus.
I've been musing recently that much of this is related the emergence of the individual in the birth of the Republic.  The evolution of individualism has led us to a point where it becomes difficult for us to work toward a shared goal.  The idea seems to be that to gain something you have to take it from someone else, or more to the point: for someone else to gain, they must have to take from you.  I also have started to believe that the 70's and Dr. Spock are at the epicentre of a great many problems that we now face.
Dr. Spock and his peers pressed parents to treat their children like kings of the world.  The idea was that every child was to be taught that they were perfect and that they could do anything they wanted.  Of course I've reduced the argument into a nice idea, but that's how I see it perceived by the masses, even if it's a lot more complex than that.  The point is, this seems to be what the world took from 'them'.
So, children like me were raised thinking that they were the smartest people in the world in comparison to their peers and all they needed to do was to try and they would succeed.  Added to this, the measure of success in society was based on 'who dies with the most things, wins' which meant that you'd have a multiplicity of unlikely scenarios measured by a standard that is meaningless.  This, I am certain, is the recipe for our collective disaster.
Weaved into all this individualism and belief that you are good at whatever you try and never wrong is the absolute certainty that anyone who disagrees with you is in your way and, therefore, they must be forced to think like you or removed as an obstacle.  I see this as the pervading principle of politics in the West – especially in America.  There you see groups polarized and two parties who refuse to agree on anything and voters who refuse to let their leaders lead.
This is the apex of the problem: the idea that you are a leader.  Everyone today thinks that they're a leader; no one wants to be a follower, or thought of as one: being a follower is bad.  I myself fell into this fallacy when I had leadership roles until I realized that even I was following someone and if I didn't, I'd probably lose my job.  That's when I came to the conclusion that following is every bit as noble and life-affirming as leading.
This is not to say that everyone should follow all the time, regardless of the person who is leading or the situation you are being led to.  What I mean is that based on your needs, your desires and your morals, if being led there doesn't conflict greatly with these things, there is nothing wrong with following and if there is no conflict, there should be no reason to expend the effort to try and wrest power from those who are leading.
Of course many things will conflict greatly with those things, but society is built on compromise, meaning that for you to accomplish or receive the things that you think of as important, you have to acknowledge that they are not all equally important, that there's a hierarchy and you have to give up some things or kill everyone else lest they take anything away.  And this is the political crisis we face today: compromise is a bad word, making deals is unacceptable, you're either with us or against us.
---
Posted in
Newman Logic
,
The (Changing) Times
Tags:
community
,
compromise
,
divisiveness
,
dog with a bone
,
dr. spock
,
follower
,
individualism
,
leader
,
pessimism
,
polarized
,
the 70's
,
writing