It's the day after the English language leaders' debate for the Canadian federal election.  What I wonder is if the issue that should be paramount in voters' minds is getting the traction it needs.  The issue I'm talking about is tied to how the Harper government failed, triggering an election.  The minority government of Stephen Harper's Conservative party was defeated by an unprecedented parliamentary motion.  What happened needs restating: the Harper government was not only dissolved by a vote of non-confidence, it was also found in contempt of Parliament.  This is the first time a sitting Prime Minister's government has been found in contempt of Parliament.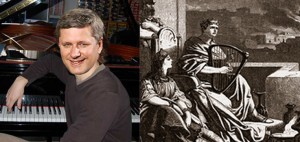 Is this serious? Yes.  And is it something that should be an election issue?  Harper doesn't seem to think so but then again he likes to mislead Canadians anyway.
"Whoa!  What does that mean?" you ask.
And my answer is that Harper fabricated a myth when he first faced the wrath of the opposition parties in the winter of 2008/09.  I remember, during that time-period speaking with a friend who had voted for the Conservative party in the previous election.  She was very concerned that the Liberals and NDP were acting illegally.  I was extremely confused by her reaction because up until that moment I was under the impression that the workings of our Parliamentary system were common knowledge at least as far as minority governments were concerned.  Of course, what happened to Joe Clark has been separated by 30 years of relatively stable majority federal governments, but I had assumed up until that point that the meat of the tale were still part of our national zeitgeist.
It turns out that I was wrong.
No matter how hard I tried, I couldn't convince her that the forming of a coalition to bring down a minority government with the intent of replacing that minority government with a coalition government made up of different parties than the one she voted for was par for the course as far as our political traditions were concerned.  It seems that, in this regard, Harper was more aware of how many Canadians thought than was I.  He seemed to sense the mood of Canadians: that they wouldn't understand that the thing he was railing against was a perfectly normal representation of Canadian democracy.  Of course he knows how our parliamentary system is supposed to work, make no mistake about that: he just doesn't seem to like it very much.
I wonder if the Canadians who vote for the Conservative party which Harper happens to be leading at the moment are aware of the fact that he has lied to them and in so doing misled the public as to how our form of democracy works in addition to undermining our political institutions and setting dangerous precedents that could strip the rights of these same Canadians to choose how their country operates.  And I wonder further, if they would vote differently if they were aware.  I hope they'd change their mind about Harper.  This would give the Conservatives a chance to find a leader who respects Canada.
Or as this article puts it:
For Harper, the election is unnecessary, the rules of Parliament are mere political games, his opponents are best ignored and the leaders' debate was an exercise in bickering.

He is betting that if he keeps downplaying everything between now and election day, a dozing electorate could wake up May 3 to a majority Harper government.
What I'd like to do is go back to where I think this all started.  No, I'm not talking about regression therapy for our erstwhile (and hopefully former) Prime Minister, although I think he could use it.  What I'm thinking about is where this contempt of Parliament began in a mechanical sense.  I think I know the answer: I believe that Harper has been playing a game of 'red light: green light' with us.  When he gets away with something, he starts building up a slightly bigger thing that he wants to get away with.  And yes, it was a problem that the opposition was reticent to say "Red light." in the early days.  But the point is that they've been saying it for the past few years now.
So where do I think this brinksmanship began with Harper?  November 18 2007.  When Canada's government controlled nuclear energy company, AECL shut down their Chalk River nuclear reactor for maintenance an independent Canadian Nuclear Safety Commission found that, based on reports provided by AECL and an inspection by the commission, there were indications that the reactor's chances of going Chernobyl (or I guess we can also now euphemize Fukushima) were a 1 in 1,000 risk rather than the 1 in 1,000,000 that is considered acceptable according to CNSC.  Of course Harper cajoled the opposition by raising the spectre of a shortage of medical isotopes.  Whether or not Harper's government knew that the reactor was, in fact not safe or that the shortage was not a real crisis makes no real difference because they presented the opposite of what was true: this means they lied, or they didn't conduct their due diligence.  And if that wasn't bad enough, to hide his poor leadership, Harper covered his trail by firing the CNSC president.  What's rarely discussed is that he didn't really have the authority to fire an independent nuclear inspector.  But because he pushed and she fell, he gained that authority ipso facto.  Of course, none of this made him right.  And it all seems to have backfired, although luckily: so far no big bang.  And it's best to be reminded that he claimed there was an isotope shortage with no alternative but to force an unsafe reactor to go online.  It turns out this global shortage has been pretty mild even years after the fact.
What did Harper learn to do from this incident?
Use the authority of the PMO to force Parliament to act on his whims
Fabricate an imminent crisis when a measured approach would suffice
Enact emergency legislation over Christmas when Canadians aren't paying attention
Silence opposition concerns and gain control over bureaucratic experts
Formulate a misleading message
Push hard because the polls say we don't want another election
If you dig deeper, you'll see that from this moment, the steps Harper took led directly to the crisis du jour over the winter of 2008/09.
And what was that?  Why the coalition with the 'separatists' and the proroguing of Parliament of course.  Surely, this incident is still in the mind of Canadians.  Unfortunately, if it's an election issue, Harper's clever tactic of claiming that everything good comes from him and the vile opposition was working with separatists is still distracting from the truth of the matter.  In addition to that he shut down Parliament by forcing the Governor General to prorogue.  This way he could avoid the coalition formed by the Liberals and NDP (with the Bloq not coalating, just supporting) for a short time in the hopes that they'd turn upon themselves and leave him alone.  And, in this, he turned out to be correct in that the coalition dissolved and Dion disappeared.
But what led to this moment is something all Canadians need to remember before they go to the polls: the Harper government was trying to avoid answering questions about the Afghan detainees.  He supposed that voters didn't care whether or not he was complicit in handing over prisoners of war to be tortured by a local regime.  He turned out to be wrong.  This was another first that Harper brokered: the first time that a Canadian Government faced massed protests in every major region of the country during peacetime.  And make no mistake: his actions were the direct cause.
Now, in the months leading up to this election, there have been more autocratic actions by the Harper government.  The senate killed a climate change bill.  And not only was the will of our elected House of Commons defeated, but when you look deeper into the issue there were some shady actions taken before the bill was killed.  Shortly after that, a Conservative MP came under fire for her role in the subversive altering of a piece of legislation and she lied about it when confronted.  Peppered between these moments, Harper renamed the government, mislead the Canadian people about the cost of the new F-35 jet fighter, took advice from a criminal convicted of fraud and refused to outline the cost details of crime bills.
What I hope is that, when it comes time to go to the polls, those who would normally vote Conservative (I usually vote Conservative or NDP, depending on the leadership) are paying attention to Harper's contempt of them, Canada and proper governance in a Parliamentary Democracy.
---
Posted in
Newman Logic
Tags:
AECL
,
afghan detainees
,
bloc quebecois
,
canada
,
canadian
,
chalk river
,
chernobyl
,
CNSC
,
coalition
,
community
,
compromise
,
conservatives
,
contempt of parliament
,
election
,
emperor
,
F-35
,
fukushima
,
government
,
harper
,
joe clark
,
liberals
,
lies
,
lying
,
medical isotopes
,
ndp
,
nero
,
nuclear reactor
,
palpatine
,
parliament
,
politics
,
prorogue
,
red light: green light
,
seperatists