April 21, 2011
Comments Off

on The Myth of Lower Taxes
When Canadians go to the polls this May, many of them will be hoodwinked: the reason many of them will vote for Harper is because they grossly misunderstand what Harper means when he says that he'll keep taxes low or even lower them further.  They seem to think this means that they'll be saving money.  This isn't true.
What Harper means is that he intends (and always has) to keep taxes low for the wealthiest individuals and companies.  This group pays the bulk majority of the taxes, i.e. the money the Government uses to conduct business, but it's not technically their fair share because they hold on to so much more wealth in proportion to the majority of Canadians.
Technically, what a just society would do is have the wealthiest participants turn over more of their wealth to the state so that the middle class and society's less fortunate can benefit.  This would be a fair exchange since the wealthy rely on our support and participation in the economy to generate their wealth.
---
Posted in
Newman Logic
Tags:
advice
,
canada
,
conservatives
,
election
,
government
,
harper
,
lies
,
lying
,
newman logic
,
politics
,
services
,
tax
,
taxes
It's the day after the English language leaders' debate for the Canadian federal election.  What I wonder is if the issue that should be paramount in voters' minds is getting the traction it needs.  The issue I'm talking about is tied to how the Harper government failed, triggering an election.  The minority government of Stephen Harper's Conservative party was defeated by an unprecedented parliamentary motion.  What happened needs restating: the Harper government was not only dissolved by a vote of non-confidence, it was also found in contempt of Parliament.  This is the first time a sitting Prime Minister's government has been found in contempt of Parliament.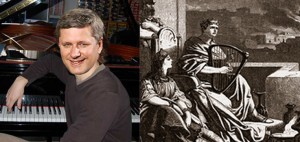 Is this serious? Yes.  And is it something that should be an election issue?  Harper doesn't seem to think so but then again he likes to mislead Canadians anyway.
"Whoa!  What does that mean?" you ask.
And my answer is that Harper fabricated a myth when he first faced the wrath of the opposition parties in the winter of 2008/09.  I remember, during that time-period speaking with a friend who had voted for the Conservative party in the previous election.  She was very concerned that the Liberals and NDP were acting illegally.  I was extremely confused by her reaction because up until that moment I was under the impression that the workings of our Parliamentary system were common knowledge at least as far as minority governments were concerned.  Of course, what happened to Joe Clark has been separated by 30 years of relatively stable majority federal governments, but I had assumed up until that point that the meat of the tale were still part of our national zeitgeist.
It turns out that I was wrong.
---
Posted in
Newman Logic
Tags:
AECL
,
afghan detainees
,
bloc quebecois
,
canada
,
canadian
,
chalk river
,
chernobyl
,
CNSC
,
coalition
,
community
,
compromise
,
conservatives
,
contempt of parliament
,
election
,
emperor
,
F-35
,
fukushima
,
government
,
harper
,
joe clark
,
liberals
,
lies
,
lying
,
medical isotopes
,
ndp
,
nero
,
nuclear reactor
,
palpatine
,
parliament
,
politics
,
prorogue
,
red light: green light
,
seperatists